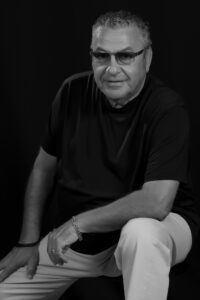 Starting with Joey's first performance at age 11 in his older brother Alex's band in his Central New York hometown of Herkimer, NY, He knew what he wanted to do with his life. Joey sang in local bands from 1972 thru 2006.
He then decided to go, Solo when he and his wife Melanie moved to Southwest Florida and settled in Bonita Springs, FL. Joey has been entertaining audiences throughout the State of Florida, from The hottest restaurant nightspots to world-class country club communities to corporate functions and indoor and outdoor events for the last 16 years.
Joey also has a secondary career as an Emcee. Joey graduated with a bachelor's degree in radio/television communications and was the Emcee for the International Boxing Hall of Fame in NY from 1989 to 2015. Joey has introduced and interviewed hundreds of Hall of Famers and celebrities. His expertise can be seen in boxing documentaries on HBO and NETFLIX.
His music selection and incredible versatility can range from Sinatra to Motown to Springsteen and All points in between! His nonstop energy, honest heartfelt, and soulful delivery will give his audiences of all ages an unforgettable night of music and dancing!
Joey welcomes and embraces his returning fans and opens his arms to all new arrivals!
I hope you are ready for me because I am ready for you!
Everybody loves Joey. He moves a crowd. He knows what he is doing whether he is with a large crowd or talking to an individual. He can keep a crowd entertained and can adapt to schedules that move forward too quickly. The fans and the boxers enjoy Joey.

When he's around, there's magic in the air."

—Ed Brophy, Executive Director
International Boxing Hall of Fame
I would like to use your theme song for my Election Night!"

—Hillary Clinton, Former Secretary of State
Frank Sinatra would be proud of you."

—Tony Orlando
Television Star / Entertainer
Great job! You took my job as Emcee!"

—Burt Sugar, Ring Magazine Editor
You're alright kid."

—Tony Sirico, Pauline Walnuts, Sopranos
You've got a great set of pipes on you."

— Englebert Humperdink, World Renowned Entertainer
Follow Joey Fiato on Facebook